Professor Karen Pine applies psychological theories and knowledge to fashion. Fashion psychology is about understanding why people wear what they wear and the effects their clothes have upon other people and on their own their thoughts and emotions.
READ 'MIND WHAT YOU WEAR' THE PSYCHOLOGY OF FASHION
 AVAILABLE ON KINDLE, £1.99  (also available for US readers on Amazon.com)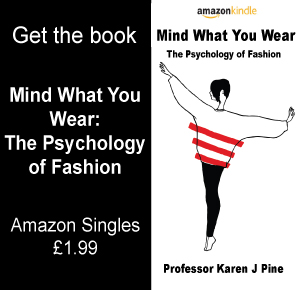 EXPLORE THE PSYCHOLOGY OF STYLE AND FASHION FOR YOURSELF
Professor Pine's first online Wear Something Different programme is now available. Changing your look can literally change your life. Wear Something Different is a unique psychology-based programme to shake up your wardrobe habits, revamp your look and help you to look at life from a new perspective. Go on your own style adventure here
SOME BACKGROUND TO FASHION PSYCHOLOGY 
From 2011 to 2014 I was Professor of the psychology of fashion at Bilgi University, Istanbul, giving an inaugural public lecture on The Psychology of Fashion. This arose from my many years of research into human development and  non-verbal communication.
As humans we communicate a great deal about ourselves via the medium of personal style and dress. I try to pay a lot of attention to this, personally and professionally. If we're not careful, personal style can also become a straightjacket, in the way that behavioural habits can. This means extending the Do Something Different philosophy (which underlies much of my behaviour change work) to the wardrobe as well as the mind. We should use more than just 10% of it. Recent research on enclothed cognition demonstrates a powerful link between a person's attire and the way they behave, and evolutionary and cognitive psychology can help us to understand the inner drivers for people's clothing choices, and the effect upon others.
MY RESEARCH
In 2012 we published a paper in the Journal of Fashion Marketing and Management about the effects of subtle manipulations in clothing upon first impressions. A 2015 paper in the journal Sex Roles concerns how women's work dress affects perceptions of their competence. My research interests have focused on how dress can affect the wearer's mood or affective state and serve to regulate emotions.
RESOURCES
OTHER PROJECTS
Projects include working with brands (TK Maxx, TJ Maxx), clothing retailers and designers, a book on Fashion Psychology (see below), participation with Istanbul Bilgi University fashion designers at the 2012 Istanbul Design Biennale and a Laureate University Webinar on the Psychology of Fashion on 21st Feb. 2013.
WHAT PEOPLE ARE SAYING ABOUT MIND WHAT YOU WEAR
Make the right choices in the morning. I love this book, it confirms my theory that clothes can alter your mood, mindfully and physically. Lynne M, Amazon review
Warning: this book will change your life. Amazon review
Amazing book! Such an amazing read! Everyone can benefit from reading this book and possibly could be an alternative to depression medication?! Li, Amazon review
Intriguing. This book will give you a new perspective on fashion. What was once merely a trend, will now be a glimpse in to the depths of a person's psyche. Ross M, Amazon review.
MIND WHAT YOU WEAR: The Psychology of Fashion e-book
Published by Amazon Singles 2014 (UK) £1.99 Also available from Amazon.com  $3.19
In this book I reveal the inner secrets contained in the clothes we wear. It will help you decipher the subtle clothing clues people use every day to project or hide their true personality. I also unmask how the right clothing can make us better thinkers. Or more likely to impress at a job interview. I show how the right outfit can give a much-needed boost to our self-esteem, mood or confidence.  And how simple colour changes affect our sex appeal.The book combines fascinating insights from scientific psychology with my personal impressions gained from a lifetime of people-watching. The book will appeal to fashion students and designers alike, as well as anyone who is passionate about psychology and clothes. It contains the questionnaires I've used in my research to discover what lies behind a person's wardrobe habits or to uncover their fashion identity. It is also laced with tons of practical tips on how to create a style that projects who you are, banishing fashion anxiety and sartorial monotony from your life forever.