Some talks by Karen Pine:
28th October 2016: The Flextravert Advantage. TedX Brighton 
16th October 2015. Workshop: Adapting your behaviour for growth. Brighton Summit 2015
18th September 2015. Workshop. Behavioural flexibility for success. Happy Start-ups Summer School.
13th July 2015. "It started with a text: The use of mHealth interventions to enhance self-management of long term conditions" Health Psychology in Public Health Network, UK.
7th February 2015 TedX University of Hertfordshire. "Why thinking is over-rated".
18th November 2014 I will be appearing at Meaning Conference, Brighton along with the Do Something Different team.
22nd-23rd October 2014. Using tehnology to change behaviour. World Health and Design Forum, Eindhoven, NL. Keynote speaker.
16th September: What is a Flexible Leader? UH Manager's Conference 2014. Keynote speaker.
13th May 2014 Hertfordshire C.I.P.D. AGM
29th April 2014 Old Bag's Brunch, Pillars Hotel, London, UK.
From organiser Georgie Tarn: "Professor Karen Pine … was an absolutely fantastic speaker, incredibly professional and knowledgeable but also funny, this combination kept everyone in the room totally engaged and I received much positive feedback – she took time to speak to individuals and really made the event extra special."
3rd April 2014 Amex First Thursday speaker, Brighton, UK.
From participants: "Karen was fantastic, I could have listened to her for another hour." "Fun. Engaging. Thought provoking." "…an outstanding and engaging speaker."
5th February 2014  'Do Something Different: Creating healthy lifestyles, one Do at a time.'
Drinkaware Annual Conference 2014, The Park Plaza Hotel Victoria, London.
From the organisers: "We've had some fantastic feedback about you and your presentation."  "Not only was your presentation great, you were amazing in the build up to it, especially with getting your presentation to me way ahead of schedule for which I am very grateful."
10th December 2013  'Bridging the Knowing-Doing Gap: The Do Something Different approach to behaviour change'
UH Community of Coaches and Mentors, University of Hertfordshire, Hatfield, UK.
14th November 2013  'Small change, big difference: How Do Something Different digital technology moves people towards better ways of living and working'
Drink Aware seminar: Can Technology Really Change Behaviour? RIBA, London
10th October 2013  DO UBUNTU! Make it happen with Do Something Different.
The Symposium Ubuntu Experience in Den Bosch (Holland).
10th July 2013 Title TBA
Invigorating thinking for today's educational leaders. Ashridge Management College, UK.
6th July 2013 Behavioural flexibility: Bridging the knowing-doing gap.
CIPD Centenary Conference, Ashridge, UK.
26th June 2013 Do Something Different: Get Something Different
West Norfolk Teaching and Learning Conference, Kings Lyn, Norfolk, UK.
9th May 2013 Behavioural flexibility: Get off the couch and do something different.
The Chinwag Psych Conference, London.
Summary: Humans can only grow and develop by upping their behavioural flexibility. Shifts in mindset can only happen when we're shaken up by new experiences. But how can we expand our behavioural repertoire when our unconscious brain is a habit machine designed to turn us into couch potatoes? Psychologist Professor Karen Pine, co-author of Flex: Do Something Different, describes how making small positive changes can trick the brain into shifting gear. And how Do Something Different uses digital technology to help individuals and organisations unleash richer, more stimulating ways of living and working.
21st February 2013 The Psychology of Fashion
Laureate Group Fashion Week Webinar series
14th February 2013 The Knowing-Doing Gap in EDI
A Diversity Works for London masterclass at City Hall, London.
23rd January 2013 THE PSYCHOLOGY OF SELF-IMAGE 
a talk as part of the PRESENTING MYSELF series at St Albans Museum, Herts.
11th December 2012 AREN'T WE ALL A BIT OCD? 
Talk to the University of Hertfordshire Twilight Club.
Summary: In As Good As it Gets the central character Melvin Udall (Jack Nicholson) is a successful author who is racist, misogynistic, homophobic and belligerent. He has been diagnosed with Obsessive Compulsive Disorder (OCD). In this talk I look at the portrayal of mental illness in film – what is OCD? Are Melvin's symptoms typical or exaggerated for comedic and dramatic effect? Can he be helped by drugs, by the kindness of people like Carol or would behavior therapy have been more effective? Finally, I suggest we're all a little bit OCD, attached to habits and routines that risk making our lives as narrow as Melvin's.
1st October 2012 Speaking about Do Something Different and Behaviour Change (click for video) at the 2012 Meaning Conference, Brighton.
‪"@jonathas At ‪#meaningconf ‪@Karenpine is raising the most laughs of the day & making lots of sense too. Brilliant speaker."
13th and 18th September 2012 Talks for Palmolive Colgate on the importance of me-time for women at Charlotte Street Hotel, London.
24th May 2012: İstanbul Bilgi Üniversitesi Santral Kampüsü TURKISH FASHION: DESIGNING FOR SUCCESS
27th January 2012. Champagne Assembly, St Pancras Renaissance Hotel, London. THE BEST THINGS COME TO THOSE WHO ANTICIPATE .
16th January 2012. The Groucho Club London BOOK LAUNCH. FLEX:DO SOMETHING DIFFERENT. HOW TO USE THE OTHER 9/10ths OF YOUR PERSONALITY
14th December 2011.  Institute of Directors London FLEXIBLE BUSINESSES, FLEXIBLE PEOPLE, BETTER LIVES. 30th November 2011 Bilgi Istanbul University, Turkey THE PSYCHOLOGY OF FASHION
11th November 2011 E-Money Conference MOSCOW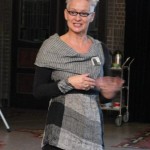 TITLE T.B.C.
12th July 2011 MTB Meeting, Bedford. WHO'S MANAGING YOUR MONEY: AND IS IT TIME TO DO SOMETHING DIFFERENT?
8th July 2011 KEYNOTE ADDRESS Association of Teachers of Psychology, Annual Conference, UK. OUT OF THE CORNER OF THE ROOM: DEVELOPING ENDESS POSSIBILITIES (Do Something Different)
13th June 2011 Capita Registrars Workshop, Apex Hotel, London. THE BENEFITS OF DIVERSITY ON COMPANY BOARDS
26th March 2011 The British Psychological Society Psychology For All Conference, University of Westminster. 'OFF THE COUCH: THE DO SOMETHING DIFFERENT APPROACH TO BEHAVIOUR CHANGE'
24th February 2011 Nutella Bloggers Event, Manchester, UK MANAGING CHILDREN'S EATING BEHAVIOUR
25th November 2010 Medicinfo Trendbox, Eindhoven, NL. DO SOMETHING DIFFERENT: THE ONLY WAY TO CHANGE
16th November 2010 Financial Services Research Forum, Central Hall, Westminster. THE RISE OF THE SHECONOMIST: WHY WOMEN ARE A WISE INVESTMENT
8th November 2010 Mumm Champagne Assembly, The Town Hall Hotel London, E2 HARD WIRED FOR LUXURY
15th September 2010 British Psychological Society, Goldsmith's, London. WHO NEEDS BABY SIGN?
6th July 2010 Financial Services Research Forum Central Hall, Westminster. SHECONOMICS IN PRACTICE: Women and borrowing behaviour.
30th June 2010 Trustees' Council of Penn State, RAC Club, Pall Mall, London SHECONOMICS: THE PSYCHOLOGY OF WOMEN AND MONEY
November 20th 2009 Women on their Way Conference, Birmingham. MONEY MINDSETS AND MONEY MADNESSES